Sunshine Suites Resort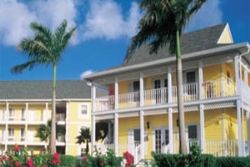 Sunshine Suites Resort
This warm Caribbean style all-suite hotel is located less than 200 yards from Grand Cayman's famous Seven Mile Beach. The hotel is next door to the luxurious Ritz-Carlton Resort and adjacent to North Sound Golf Course. Sunshine Suites Resort features 131 studio suites, deluxe suites and one-bedroom suites - all with fully equipped kitchens.
Sunshine Suites Resort Dining:
Sunshine Bar and Grill
...

Founded in 1959, Pleasant Holidays is one of the largest tour operators in the U.S., offering vacation packages, flights, hotels, cruises, car rentals, travel protection and related travel services to the world's most popular destinations including Hawaii, Caribbean, Mexico, Europe, Australia , New Zealand, Central America, Las Vegas, Orlando, New York, Canada, Fiji, Cook Islands, Tahiti, Bora Bora and French Polynesia. The Company's portfolio of travel brands includes Pleasant Holidays, Journes
...